08sep7:30 pmFrom Weimar to Vaudeville - Live Theater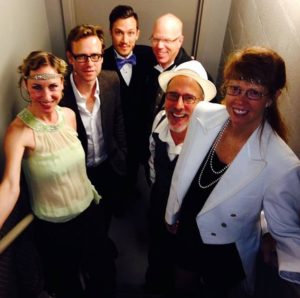 Event Details

From Weimar to Vaudeville is the story of two men, both sons of musical royalty. As America emerges from the Great Depression and Germany descends into darkness and chaos. Two musical princes, one rich, one poor, reach to each other across hardship and time as the world tilts again toward war.
Missed The Concert???
Tom Allen and the gang are coming back
As most of you have heard, our Thursday July 26th presentation of Tom Allen's "From Weimar to Vaudeville" had to be cancelled due to the wide-spread power outage in the Haliburton area.  We really wanted to schedule a matinee make-up performance, but scheduling and contractual issues are going to preclude that from happening.
However, we are bringing back Tom Allen and his crew for a make-up performance of
"From Weimar to Vaudeville" ,
7:30 p.m.
Saturday, September 8, 2018
at the Northern Lights Performing Arts Pavilion.
So, if you are holding tickets for the performance that was cancelled, or if you would just like to see the show again, please contact Jim at the Box Office (705) 457.9933 to arrange for your tickets for September 8th.
Location

Northern Lights Performing Arts Pavilion

5358 Cty Rd. 21