On October 23rd the OH!Tourism Summit was held at the Germania Club in Pembroke, Ontario. This Summit brought together business partners, old friends, and like-minded individuals from across Ontario's most talked about region; the Ontario Highlands. Representatives from companies such as Bark Lake Leadership and Conference Centre, Square Timber Brewing Company, Bonnechere Caves, OWL Rafting, and many others came together to understand more about what makes our region a tour de force in Ontario's (and Canada's) tourism industry.
The OH!Tourism summit gave these business partners the chance to connect; and to continue a dialogue and partnership moving into 2020. Working together, they learned what the unified region must do to continue to prosper, and the positive commitments we've made to our clientele within our regional and global communities. It is a small world, and through summits like OH!Tourism, the businesses throughout Ontario Highlands begin to feel more and more like family; sometimes literally!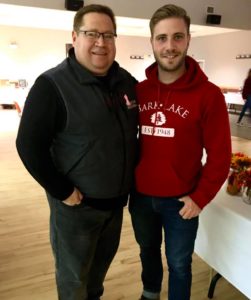 Early on Wednesday, Owen Duhaime of Bark Lake Leadership and Conference Centre chose a seat, and settled in for the Summit. Next to him sat Marc Bru, of Square Timber Brewing Co. As the two of them began to chat, Marc quickly recognised Owen's last name… Marc, being a scholar of his family's lineage, discovered that Owen is in fact his own cousin! Upon this unlikely revelation, the two of them discovered where exactly down their family tree they had originated from. Two estranged cousins, brought together by unlikely coincidence, and connected through tourism.
This story reminds us the true essence, values, and importance of the tourism industry: togetherness, new experiences, thrilling discoveries, and familial bonds- all found in the Ontario Highlands.
Owen Duhaime