Haliburton Highlands' Hidden Gems: Leaf season.
If you know the Haliburton Highlands, you likely love October: great weather, no bugs, and beautiful fall colours. For prime leaf viewing, almost everyone is familiar with the Dorset Fire Tower and the Scenic Drive on Hwy 35. Perhaps you would like to experience our beautiful autumn colours and some delicious food without all the crowds. Here are some hidden gems to help you do just that.
For scenic overlooks that are easily accessible by road, there are several excellent options.
Skyline Park in the village of Haliburton offers breathtaking views of lakes and tree covered hills. There is a full range of great eateries in the village, from coffee and snacks to sit-down restaurants. Food truck fans will enjoy Into the Blue Wood Fired pizza. After pizza, you can pick up dinner at McFadden's Meats, right next door. For a café vibe with a lakeside view, try Baked and Battered.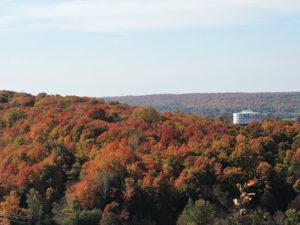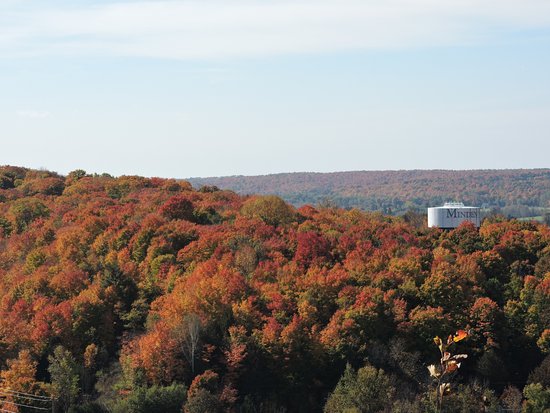 Panorama Park, overlooking the village of Minden and the Gull River is another easily accessible overlook. Minden village has lots of great food options. Eat Cheeserie is a great spot to pick up Ontario produced meat and cheese for a picnic. If food trucks are your preference, Northern Sizzler BBQ is your best bet.
Sir Sams Ski and Bike also offers a beautiful scenic overlook with two options; you can hike up for a workout with your view, or have a leisurely ride up their surface lift. Either way, the view is spectacular. Just around the corner, the Eagle Lake Country Market has meals-to-go and sinfully delicious bakery treats. For a more formal, sit-down option, Sir Sam's Inn is a great bet.
Some folks want to get off the road and be surrounded by the sights and smells of autumn. If that sounds like you, here are a couple of uncrowded options with great food nearby.
Snowdon Park has 3 km of easy, family friendly hiking trails through mixed woods and wetlands. Just down the road, experience truly local food at Wintergreen Maple Syrup: all day breakfast, baked goods and locally produced maple food products.
The Hawk Lake logchute is our last stop, with easy access to both the Circuit of 5 Viewpoints hiking trail and the Algonquin Highlands Water Trails: fall colours by foot or by canoe! Oakview Lodge offers lovely lakeside dining for breakfast or dinner: just make reservations before you drop by.
Wherever you go to experience the amazing fall colours, there is great food nearby. Here is a map of all the options in the Haliburton Highlands.