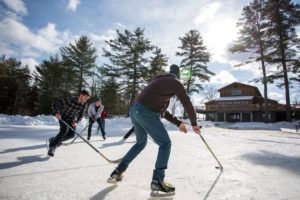 Are you and your family searching for the perfect place for a winter weekend escape, packed with winter activities? Join us on Family Day weekend at our "Wandering in Winter" event! Family rates applicable!
Bark Lake Leadership and Conference Centre is prepared for all the exciting winter activities which the snow brings to the Highlands! This Sunday we began our winter staff training, inviting back all of our wonderful staff to prepare themselves for the winter at Bark Lake. We value our program staff immensely; they are the team members who work most directly with our guests. These staff members are not only knowledgeable of outdoor adventure skills, they are young adults who are delightfully personable and understand how to provide our guests with a challenging yet inclusive experience for children and adults alike. They come to Bark Lake eager to not only teach and guide our guests, but learn more about what it means to be a leader amongst your peers and be a true team-player. If you think you've got what it takes to join them, apply for spring/summer positions! The staff members that were trained today are the team-leaders responsible for providing our guests with an amazing experience throughout the multitude of activities that Bark Lake provides this winter, including: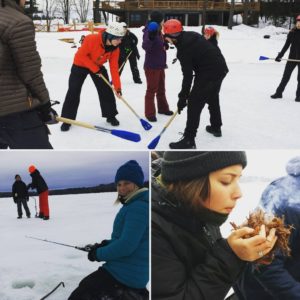 -Snowshoeing
-Cross Country Skiing
-Winter High Ropes
-Tobogganing
-Winter Camping, and Duke of Edinburgh Adventurous Journeys
-Winter Ecology Sessions
-And WAY More!!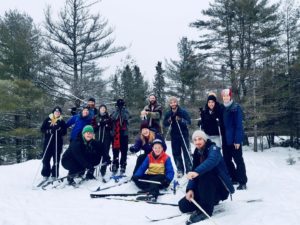 Today, our seasoned program staff trained staff old and new how to lead a guided cross-country ski on our beautiful Lakota trail. As you'll see in the photo, they even got our office staff from behind their desks and strapped them into a pair of skis to join along! Skiing our Lakota trail is not only a great way to exercise and enjoy the snow, but an amazing opportunity to teach our guests about the thriving ecology at Bark Lake. During our ski we got to see fresh tracks left behind by one of the many foxes that we share our land with! Being out in nature is the best way to remind ourselves that we live amongst these beautiful woodland creatures, and that we are all co-habitants at Bark Lake.
With winter staff training off to such a great start, we implore you all to get out in nature and experience the winter for yourselves, first-hand. Or better yet, join our program staff at Bark Lake to experience all the amazing activities we can provide!