Cool things to do in Winter
We get a little giddy here at Yours Outdoors when the first snow flies. Sure, we might be biased, but we think you'll find there's no better place to have a ball this winter.
Winter in the Highlands is jam-packed with amazing and unusual experiences (can you say Snowga?!) Get your true Canadian on — gather your warm and woollies, bundle up and embrace the chill! Get up, get out and fall in love with winter.
Whether you're a little laid back or all-in active, wild and wonderful snow-filled experiences abound.
We're just itching to share a few with you…
Try Snowga
Snowshoeing and yoga together at last! Strap on your snowshoes and explore breathtaking winter trails, as you connect with nature in mindful ways. When your fresh air forest trek ends, you'll head indoors, unroll your mat and drop into a soulful yoga practice. And then, wrap it all up with a hale and hearty vegan meal. <<Learn more or book now>>
Go Skijoring
Ski-what? Skijoring – the wildly popular Scandanavian pastime you may have never heard of. Strap on your cross country skis, harness up your dog — a little teamwork and off you go. (who knew!) Imagine racing across the fresh snow with your favourite furry friend. This just might become your favourite new winter romp. <<Learn more or book now>>
Guided Ice Fishing in Haliburton Forest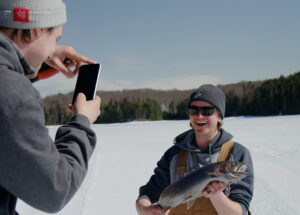 Jamie Sala of Haliburton Forest will work with you to plan an adventure of a lifetime including what species to target, what lakes to visit and what routes to take. Half and full day outings are available. The full day option includes a hearty shore lunch. A hearty and nutritious hot lunch prepared and served directly on the ice, if all goes well the lunch may feature the fish you have caught that morning.   <<Learn more or book now>>
Discover Fur and Flintlock 
Take an intriguing step back into history with an 18th-century fur trader. A leisurely snowshoe leads to a log cabin trading post, where your guide will share fascinating tales and demonstrations of the 18th-century fur trade. And to top it all off – you'll fill your belly with a traditional lunch of baked beans, bannock, wild rice and hot rum toddies.
<<Learn more or book now>>
Try It – Ice Climbing 
Try It is a half day adventure geared towards getting a taste of what this sport has to offer. No experience, no problem, you will learn the basics and get in your first swings! You'll learn safety first, have a short lesson, then lots of climbing!  <<Learn more or book now>>
More Experience Providers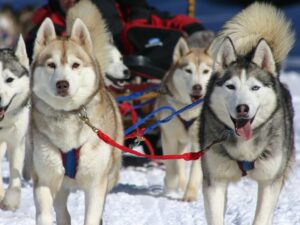 Dogsled Tours
The Winterdance dogsled tours are run on their own 2200 acres of private wilderness located between Haliburton Lake and the doorstep of Algonquin Park. This is a unique opportunity to experience the solitude, remoteness and picturesque beauty of a part of Ontario that few people will ever see.  <<Learn more or book now>>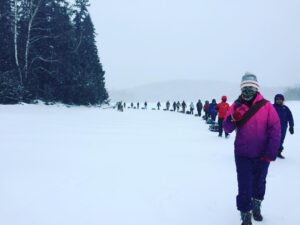 Guided Snowshoe Hikes 
Deep Roots Adventure's guides will teach you all about snowshoe travel and make sure you have a great experience! Pre-registration is required & snowshoes are available.
<<Learn more or book now>>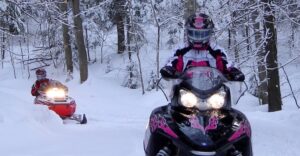 Guided Snowmobile Tours
At Haliburton Forest and Wild Life Reserve they offer fully guided snowmobiling trips on their groomed snowmobile trails within 100,000 acres of private forest. Includes the snowmobiles, guides, helmets, and fun! Snowmobiles are Skidoo ACE Grand Touring two-seater snowmobiles..  <<Learn more or book now>>