Art starts where Nature Ends
Redwing Frond @ Haliburton Sculpture Forest
ART, HISTORY & CULTURE COME ALIVE
Nestled within this enchanting landscape are numerous indoor art galleries and historical museums that serve as windows to the past and portals to artistic expression.  They will provide thought-provoking sculptures and contemporary installations, while offering a feast for the eyes and a deeper understanding of the local art scene
On the other hand, for those who prefer to immerse themselves in the great outdoors, the Haliburton Highlands also boasts an array of captivating art installations set against the backdrop of its stunning natural surroundings. These outdoor art installations are thoughtfully placed within parks and public spaces, creating a harmonious blend of art and nature that you can enjoy at your own pace.
Art Galleries
Feel the vibe of small town rural Ontario through exciting exhibitions, gallery openings, and cultural events in your area… Whether you're interested in contemporary art, photography, or sculpture, we've got you covered.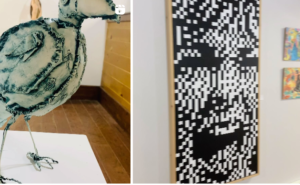 The Space
Located underneath Russell Red Records in the village of Haliburton, they feature young artists…
#myhaliburtonhighlands
Explore a sample of #myhaliburtonhighlands Galleries & Museums in the photos below.