EXPLORE WINTER ON THE HARD WATER
"Fall hook, line and sinker for ice fishing"
Incredible lakes. Scenic views. Time spent with friends and family. A variety of species of fish to catch including our very own stocked 'Haliburton Gold Lake Trout' – a glacial relict – all within a short drive from the Greater Toronto and Ottawa areas. These are just a few reasons why you should try this authentically Canadian experience.
Haliburton Forest & Wild Life Reserve
Turn your regular Ontario ice fishing trip into a winter wonderland adventure as our lakes are only accessible by Snowmobile or ATV during the winter months.  Book a Guided Fishing Trip…
Ice fishing offers the angler the opportunity to fish for the unique 'Haliburton Gold' Lake Trout, which is only found in 11 lakes in Haliburton County, as well as for Brook (Speckled) Trout and Lake Trout which are usually more active through the cooler months.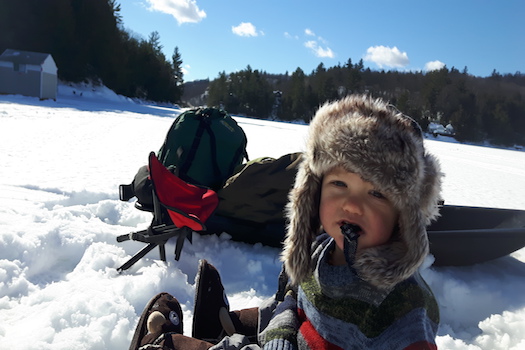 Yours Outdoors
Dreaming of landing the big one this winter? Love getting out on the hard-water but don't know where to go?  Or you would like to try ice fishing for the first time?
Yours Outdoors offers guided ice fishing experiences led by knowledgeable and engaging guides. Half day, full day, run and gun , and experiences with special features are available.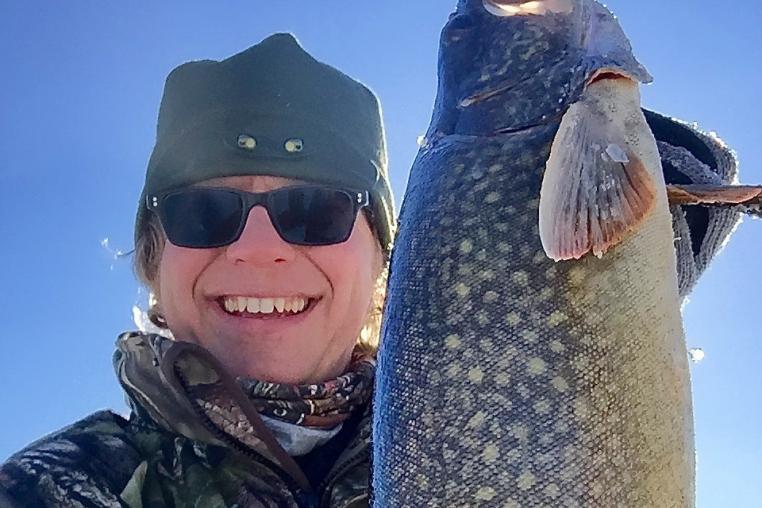 Buttermilk Falls Resort
Buttermilk Falls Resort is known for it's excellent ice fishing. Our ice fishing package includes heated huts, bait and fishing gear. reel in some Lake Trout, Pickerel, Whitefish and Ling Cod.
Come and experience the winter wonder that is Buttermilk Falls mid-week and get one day for free with accommodation.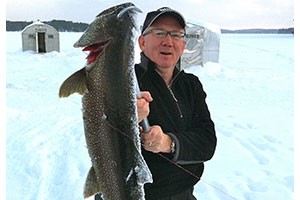 Clansman Motel and Cottages
The Clansman has been providing the best ice fishing on Boshkung Lake for over 50 years.
Winter Ice fishing is fun and we provide heated huts, bait.
Our ice fishing packages also includes accommodation, breakfast, hot lunch (delivered to your hut) and dinner.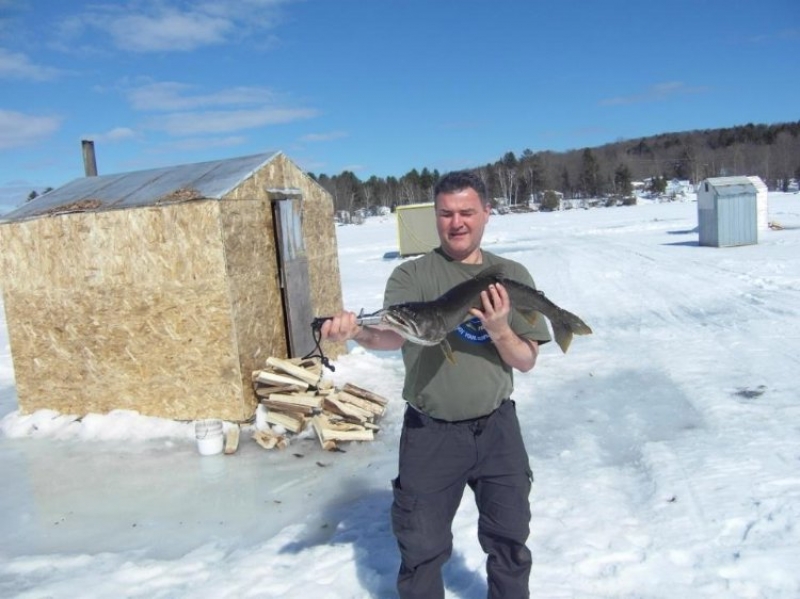 The Pines on Boshkung Cottage Resort
Come fish beautiful Boshkung Lake this winter for the chance to catch Lake Trout and Walleye/Pickerel.
Two, three and four person heated ice fishing huts are available for rental. Parking and gear transportation is included to and from the huts, which are a 10 minute walk out from the property.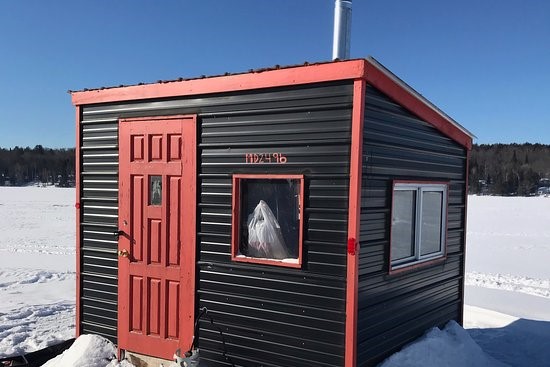 Gull Lake Hut Rentals
Ice fishing made easy and at its finest, located just 1 1/2 hours north of Toronto. Gull Lake is a "locals" favorite ice fishing destination.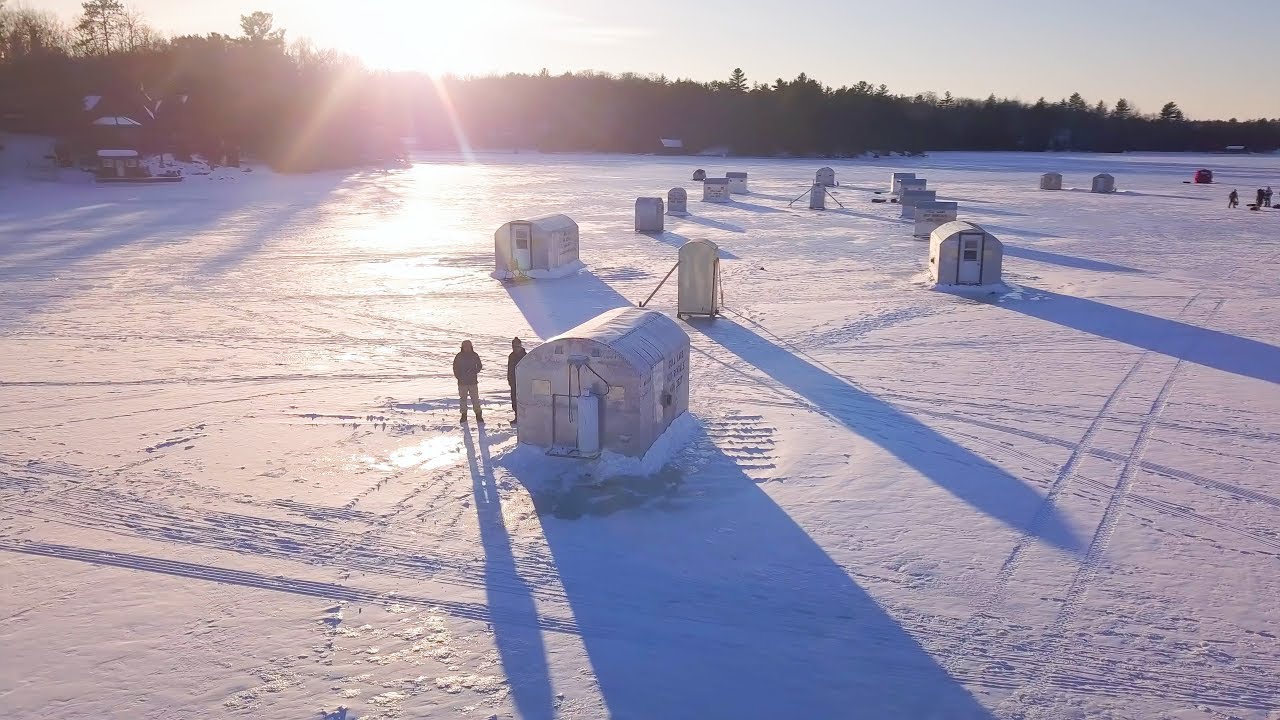 Miner's Bay Lodge
Ice fishing on Gull Lake is a popular, and Miner's Bay Lodge is within walking distance of the shore. The lodge also has a portable four-person ice hut and manual auger for rent (it fits in a backpack for those secluded fishing spots!).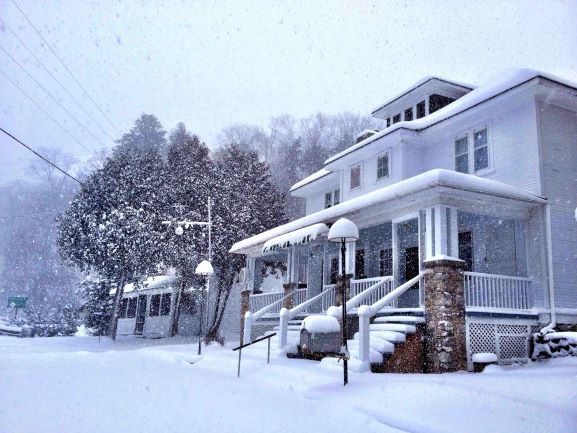 Sandy Lane Resort
Sandy Lane Resort offers on-site auger and hut rentals. You're, of course, more than welcome to bring along your own equipment for a memorable mid-week Southern Ontario adventure. There are several fish species that you'll reel in this winter, including lake trout, smallmouth bass, and largemouth bass. Seemingly, the best lure to use is a Williams jigging spoon.
Winter is the perfect season to plan mid-week group stays in the Algonquin Highlands, thanks to our incredible specials, cozy cottages, and exciting outdoor activities.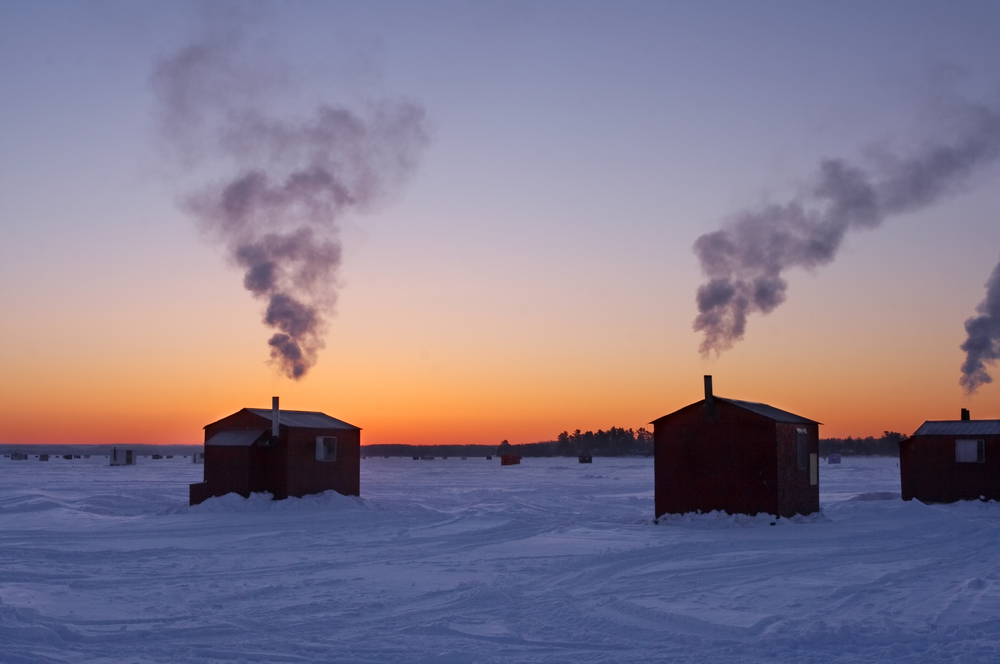 Kashaga Lodge
One of the reasons for the popularity of Kashaga Lodge's ice fishing package is that most of the huts are within easy walking distance of the cottages, enabling anglers to fish when the bite is on, and eat, snooze, play poker, or watch the hockey game in the comfort of their comfy heated cottage. 
Little Hawk Resort & Marina
Stayed at this fantastic little resort in the middle of no where. What a awesome place to spend a vacation. We booked to ice fish and we had a great time. The cottage was great, the hut is exactly what you need to enjoy time with friends on the lake and catch lake trout, and we caught a couple perch. The food is awesome and the owners are fantastic. Would recommend this place to anyone. Will definitely be back next year! Thank you for a great time!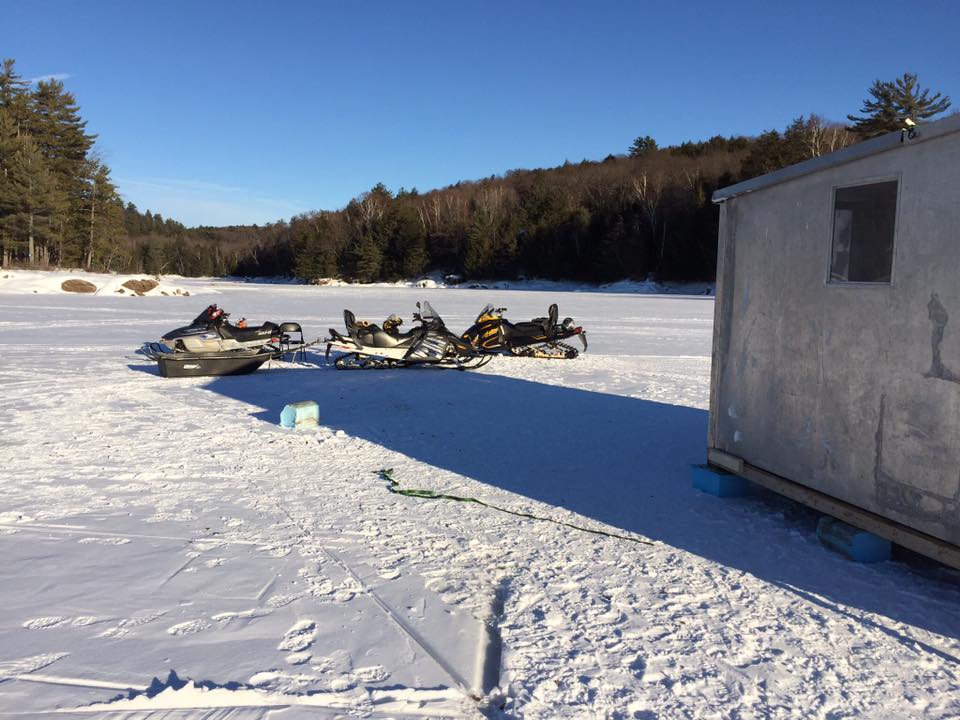 Ogopogo Resort
We situate our huts on a ridge that runs from 45-65 feet in depth, located only 250-300 ft off shore & within easy walking distance for day and night ice fishing.  You can walk back and forth from your hut to our large ice skating rink ( lit at night ) for a game of hockey between bites or to your cottage making it very convenient to visit with family and friends staying in the cottage.  Get together with your friends in one of our two bedroom lakeside cottages or three bedroom courtyard cottages featuring gas fireplace, BBQs and full kitchens. This is a step up from the typical ice fishing experience.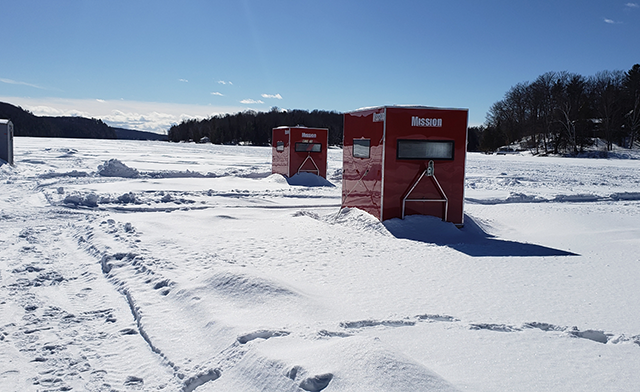 silent lake provincial Park
See another side of Silent Lake during the winter season. The park offers cross-country skiing, snowshoeing and ice fishing.
Those wanting to stay overnight can try one of the park's winter yurts or camp cabins.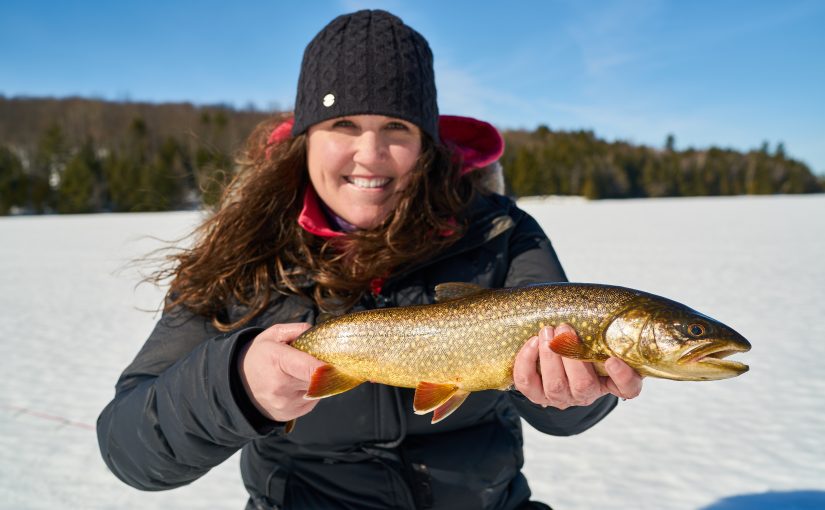 red umbrella inn
Came up to spend a night with the girls to get away. What a beautiful place!!! The staff were fantastic!! Beautiful scenery and lots to do. Us girls even went ice fishing and caught a huge lake trout!! We got our week-end booked again for this year!! See u soon Red Umbrella Inn xxoo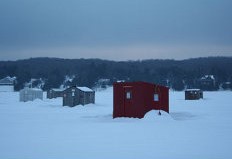 FIND ICE FISHING EXPERIENCE PROVIDERS
 Select to view adventure by category.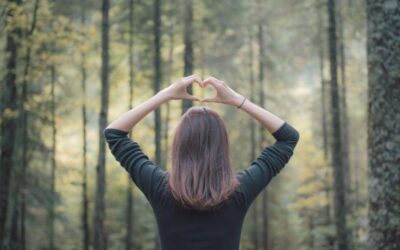 Do Less, Get More  Rejuvenate in the Haliburton Highlands!What is rejuvenation season? It is that time of year when you allow yourself to slow down and do less. A time to recharge after an adventure-filled Summer and a glorious Fall Colour Season, and before the...