If you needed another reason to visit the Haliburton Highlands come visit during the fall season and enjoy the stunning colours.
There are so many ways to experience the majestic beauty of the Maple, Aspen & Tamarack as they transform the forest canopy into a blazing sea of red, orange and yellows.  Try our many hiking trails, lookouts, a walk in the Clouds or by water on our water trails.
NOTICE: Algonquin Provincial Park has implemented measures to address overcrowding this fall. The park may be closed at any time of day if park capacity is reached.   For more information relating to capacity and park closures please follow us on Twitter @Algonquin_PP
 
Colour Change
Leaf Fall
Date Reported
Comments
Frost Centre
 10%
 0%
September 14, 2021
Green.
Algonquin Park
 40%
 0%
September 20, 2021
The Highway 60 Corridor is just at the start of its transition from summer to fall. The best pops of colour are seen near the West Gate on Highway 60.
Oxtongue Lake
 20%
 5%
September 21, 2021
.
Eagle Lake
 15%
 5%
September 21, 2021
  check out Sir Sam's Ski & Bike Live Cams – Time Tunnel Cam – or the – Kingston Road Cam
Haliburton Village
 5%
 0%
September 15, 2021
The very first splashes of orange are appearing in Glebe Park's maple trees, but green leaves still dominate. Haliburton Museum
Haliburton Forest & Wild Life Reserve
 5%
 0%
September 18, 2021
Primarily green, starting with some reds and a touch of yellow. Colours are seeing change along road corridors and shorelines throughout the forest.

 

Check out our Video Report
Benoir Lake / Southern Algonquin Park
 2%
 0%
September 10, 2021
Seeing more of a withdrawal of energy to the leaves than colour change so far. Deep Roots Adventure and Gaia's Den
Silent Lake
 10%
 10%
September 10, 2021
Silent Lake is still very much green. Early signs of fall are here! Some maples have began to turn colour. Best viewing areas for fall colours would be our day-use beach area or along our Lakeshore Loop or Bonnies Pond Hiking trails.
Minden Village
 15%
 5%
September 21, 2021
starting to see the start of the yellows here and there.
Snowdon Park
 5%
5%
September 18, 2021
predominant colour being yellow… at Wintergreen …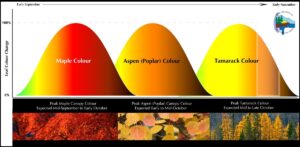 These dates are our best guess for when to see the fall colours this year. Please note, these are just educated guesses based on historical trends. There are many factors that affect when the fall colours will be best for viewing, and these conditions and dates may change slightly from year to year.
Early fall colour viewing opportunities: September 14 – September 30
Peak maple fall colour viewing opportunities: October 1 – October 12
Peak golden encore fall colour viewing opportunities: October 13 – 21
Nothing like a road trip and Feeling the Wind in your Hair
Weather by car or motorcycle, enjoy the majestic views from the side of the road.
We can fix your hunger while you are visiting
Many of our local restaurants and kitchens have delicious options for taking-out, dining-in and enjoying a patio. 
Also check out our 4 Feast ON certified restaurants, as well as our 2 local Breweries, you're going to be amazed…
Why not stay overnight and be able to see more of the highlands
Create your own oasis away from the hustle-and-bustle and safely enjoy the space & freedom the Haliburton Highlands has to offer.  Enjoy a truly Canadian cottage experience throughout our vast region at one of our many places to stay.
Dorset, Halls Lake & Oxtongue Area
Best places to view the fall colours:
Best ways to experience the fall colours:
Eagle Lake, West Guilford & Village of Haliburton Area
Best places to view the fall colours:
Best ways to experience the fall colours:
Gooderham, Harcourt & Village of Wilberforce area
Best places to view the fall colours:
Best ways to experience the fall colours:
With over 70 lake & over 30 public water access points you can find someway to go every day during this fall season, just ask Deep Roots Adventure
Still time to create family memories while searching for treasure, learn more about Geocaching Capital of Canada
Two of the best spots for satisfying your hunger are South Algonquin Dinner in Wilberforce and Algonquin Cookhouse in Harcourt
Experience a guided shamanic journey which combines the outer natural landscape of lush forests & waterfalls with our inner landscaper at Spirit of the Waterfall
Explore the rich minerals deposits, unique geological features, and rugged autumn landscapes of the area while enjoying the great hospitality and fine folk of the Highlands
If you are driving around looking at the colours why not see if you can find these four ghost towns
Village of Minden & surrounding Area
Best places to view the fall colours:
Best ways to experience the fall colours:
Check out our visitors guide
View and down load our Haliburton Highlands visitors guide – including maps, resources, Hiking Trail heads, Driving Tours, local destinations and more……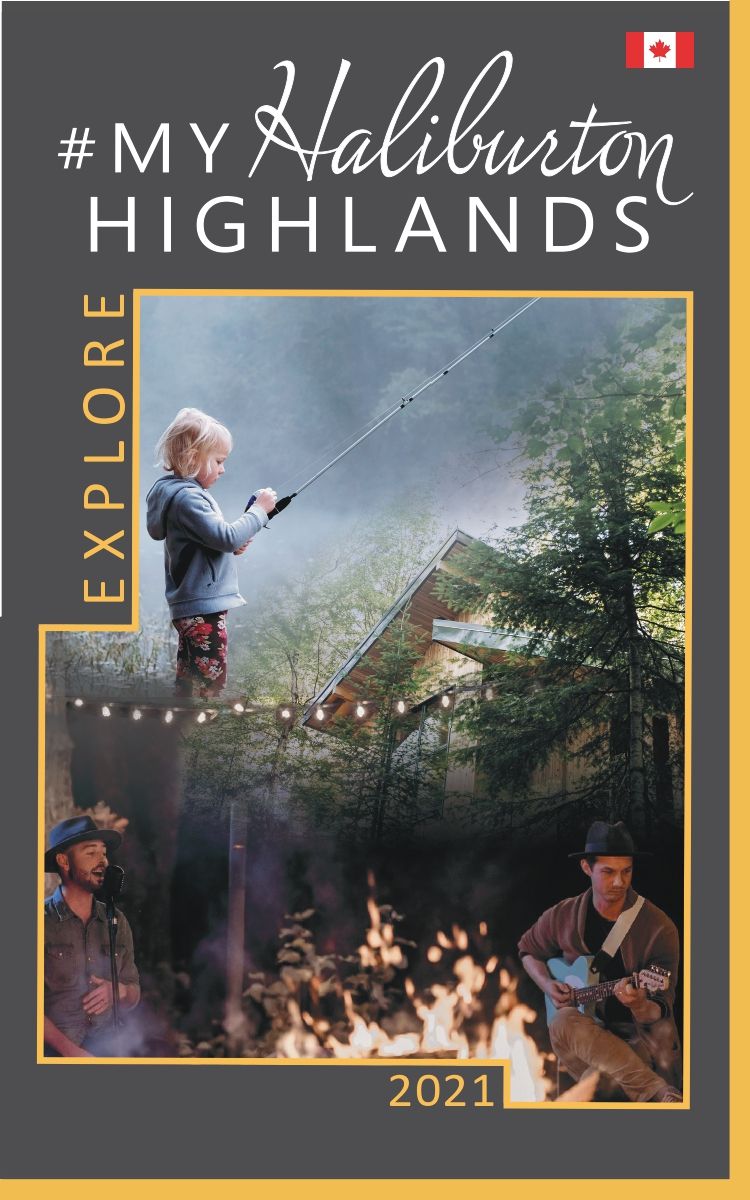 Stay up to date
Sign-up for our Newsletter and we'll keep you updated on events and ideas for planning your next trip in the Haliburton Highlands!