Image – Magnificent Hills's outdoor oven event
Is it fair to declare summer the season of pizza?
It can be enjoyed year-round, of course, but some of the best pizzaiolos fire up their outdoor ovens only during summer.
Plus, ingredients like uber-ripe veggies or pesto made with fresh basil are the cherry tomato on top of the proverbial pizza sundae.
Pencil in a visit to any of the pizza slingers in the Haliburton Highlands – but don't drag your feet, some of these artisans only churn out pies during the summer!
Check out Yelp's top 25 spots in Canada… guess who was number 18.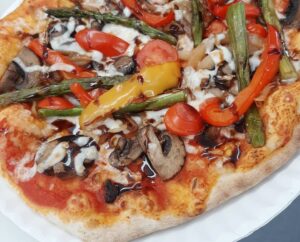 Into the Blue Bakery – Abbey Gardens, West Guilford
Authentic Italian style wood fired pizza in Haliburton County and beyond. In operation since 2014 and can be seen at Markets, Festivals, people's homes and cottages.
Located near West Guilford on the Abbey Gardens property, close to Haliburton Highlands Brewery. There, they feature wood fired ovens & fresh local ingredients. Ask them about making yours vegan, gluten free, or lactose free and they'd be happy to oblige.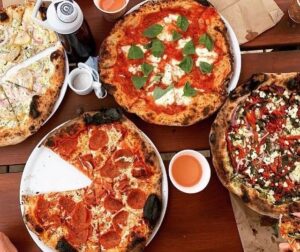 Pizza on Earth – Dorset
Wouldn't the world be better if there was Pizza on Earth? You'll be feeling pretty zen when you enjoy a slice or eight of one of the region's most coveted pizzas. Pizza on Earth serves up gourmet wood-fired pizzas in Dorset from May to September, straight from their traditional brick oven which they have dubbed "Etna."
Build your own or pick from their selection of meat- or veg-topped beauties, like the favourite Lake of Baysil, which layers chicken, goat cheese, onion, and roasted red peppers on top of a pesto base. They also make Montreal-style bagels every morning, so grab a dozen for tomorrow's breakfast!
Lola's Meal Stop & Snack Shop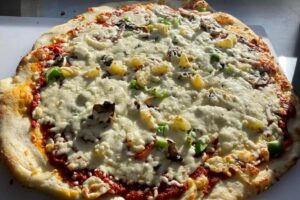 – Carnarvon
On one of the busiest intersections of the Haliburton Highland.  Lola's is located on the property of the former Bowling Alley.
Don't forget to call your pizza order in ahead to avoid the waits. 4 sizes and lots of toppings to pick from.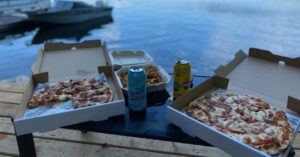 Mckeck's Tap & Grill – Haliburton
A trip to the cottage in the Haliburton Highlands includes a visit to this iconic restaurant!
Each 8 slice 13″ thin crust pizza is built on fresh house-made dough, baked in a stone oven and garnished with crushed oregano & parmesan.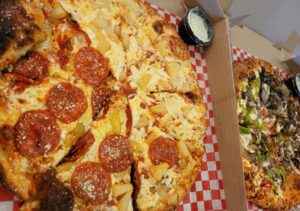 Red Umbrella Inn – North of Minden
From Build your own, to Chicken Caesar, to Pencetta e Funghi, the Red Umbrella Inn is known for their great, made in house Pizza's.
Below are some great pictures of pizzas that we found in the Haliburton Highlands that might make your mouth water.