By Kimberly Strong-Knight 
Pat Monaghan is no stranger to the Haliburton Highlands. A well-known radio personality on Canoe.FM with his Buckslide Blues Cruise on Tuesday nights, he has been calling this area his home off and on for more than 60 years. "I have lived here full-time for about 15 years, however, my grandfather bought a cottage up here in 1940, and I have been coming up here since I was 2-weeks old. I even attended some public school, and some high school, as well as worked on a lot of the farms when I was a teenager."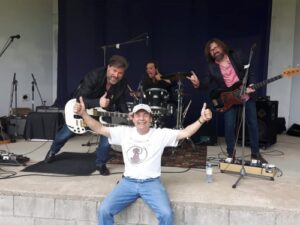 He kept coming back, and finally decided to make it permanent, he said it was the sense of community. From the time he came here as a kid he remembers that everyone helped their neighbours, it was a very close-knit community. "If you were stuck in a ditch, you knew darn well there's somebody coming to get you out. During harvesting season, the whole neighborhood would show up to help."
The draw for people to come up, stay and play, in Monaghan's opinion, is the beauty of the area, and the laid-back, down-home vibe that seems to be very prevalent.
The Haliburton Highlands also seems to be a mecca for artists, performers, musicians, there is always something going on here. Monaghan believes that it is the splendor of the area that also brings them here, as well as the sheer joy of getting out of the hustle and bustle for the big cities. "Not only for the band, but everyone associated with it, and their families, can come and enjoy it, like a holiday."
The Blues has been a passion of Monaghan's for many years now. He has also been the recipient of a Maple Blues award in January 2023 for his 40 plus years of promoting and sharing Canadian Blues Music. He says in a way the Blues has been keeping him alive. "Because of the illness I have, I am past my expiry date, but I guess for the last three or four years it has been keeping me alive. It gives me a purpose in life, in more ways than one. I can tell you that I'd be very, very sick from the chemo and when I get into the radio station and push that button on the board and it lights up, I wasn't sick for two hours. I love that every day, every week, just for a couple of hours, I feel good."
Where did this love of the Blues come from?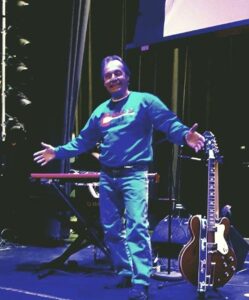 Where did this love of the Blues come from? Monaghan explained that as a teenager he would listen to the likes of the Rolling Stones, Led Zeppelin, and later on he realized they're all blues and "all bringing it home from the Blues guys." He said that realization opened his eyes, and he started reading about it, exploring it more and more. "I like to read a lot of books and get unusual little tidbits for my show, and once it got a hold of me, I just can't let it go. I can't carry a tune in a bucket, but I love the Blues and I finally found a niche I could create for myself, like booking and promotion."
He has hob-knobbed with some of the greats in the Blues industry, and was like a sponge, just soaked it all up. He remembers in the early '60's when a lot of the Blues players, like Muddy Waters, Howlin' Wolf, Sonny Boy Williamson were all heading over to the UK and playing with the bands there, the Animals and the Yardbirds, and the like. He also remembers an interview with Sonny Boy Williamson who said that 'these boys really want to learn how to play the Blues bad…and they do.'
Thinking back, he mused about meeting quite a few of the old-timers before they were gone, and some of them lived pretty rough lives, very rough. "I 've been backstage with all these guys, on the road for a long time, I don't say much, I'm like a fly on the wall, just listening." He recollected one night on his show at Canoe.FM he was telling a few stories about when he was down in Memphis hanging with some Blues guys and then spun some more music, but as the music was playing, he said he got a text asking for more stories. "Some can be told in public, some can be told over a beer, and some just can't be told at all."
Monaghan has been on the air at Canoe.FM for about 7 ½ years, but he sings the praises of the man he considers to be his mentor, David Mair. "He has 40 years in the radio business. I tell him that he is the real deal, and I am WKRP, (a sit-com about radio from the 1970's). And he told me, 'no way man, I gave you the ball and you ran with it.'"
His bucket list has a lot of check marks on it, and one more he can tick off is a Bluesfest in Haliburton. "It has been on my bucket list for a long time. The Haliburton Folk Society came to our aid in a big way. The folk society put on a lot of smaller concerts within the community, and they know community people reach out to other community people willing to help. They have been fantastic in putting things together and I wanted it to be said that we can do this in Haliburton. We don't have to be a big city."
There is a lot of talent heading to Haliburton on August 26. There are Maple Blues awards winners, and a few Juno award winners that will be performing at the inaugural Haliburton Highlands Blues Festival from noon until 10pm at Haliburton Forest which, according to Monaghan, couldn't be a more perfect spot. "It is a beautiful spot, the wolf center, and so many other activities going on out here. Every time I turn a corner there is something else going on out here. They have taken the ball and really gave me the push I needed to get my butt in gear and get out my phone and my contacts."
He would like to see this Bluesfest become an annual event. "That is why I am going ahead with this. It is all about making memories, and I just want to go out and have fun."
Please note, shortly after this interview was done, and before the story could be published the community lost Patrick Monaghan to his illness.  We were saddened and now this story is a tribute in Pat's memory.