HIKing During Hunting season
@minden white water preserve
We all know that getting out and going for a hike is a great way to enjoy the beauty of the Haliburton Highlands, stay connected to the natural world, and reduce stress.
Feeling safe while hiking during Moose and Deer hunting seasons can be challenging.
We have put together a collection of places that you can hike without worrying about your safety or disrupting this important cultural and recreational activity. Some of these places do share borders with land that may host hunters, so it still makes sense to wear bright colours, stay on the marked trail, and be aware of your surroundings.
Algonquin park trails
Widely considered to be one of the best provincial parks in Ontario, Algonquin Park features a multitude of hiking trails just waiting to be explored. The park features over a dozen interpretive walking trails, making your hike both challenging and fascinating.
Length: various
Difficulty: Easy moderate challenging 
Features: Self-guided Hikes
Access: Highway 60 North – 37 km north of the Town of Dorset.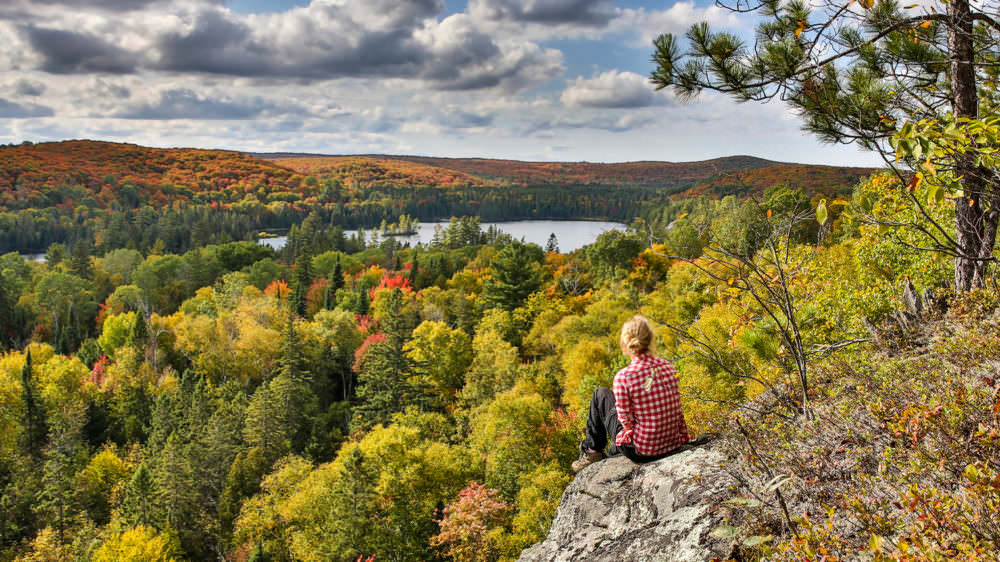 Barnum Creek Nature Reserve
Barnum Creek Nature Reserve is a mosaic of habitats ranging from tolerant hardwood, mixed wood, early successional forests, and grassland, to marsh and swamp. Running through this tapestry of habitats is Barnum Creek
Barnum Creek has lovely trails and at times they can be very wet, muddy or icy. Wear appropriate footwear.
 Difficulty: Heritage Hike easy to moderate – 5 km     Waterfall Way – Easy to moderate – 3/4 km     Ridge Trail – Challenging – 1 km
 Features: Nature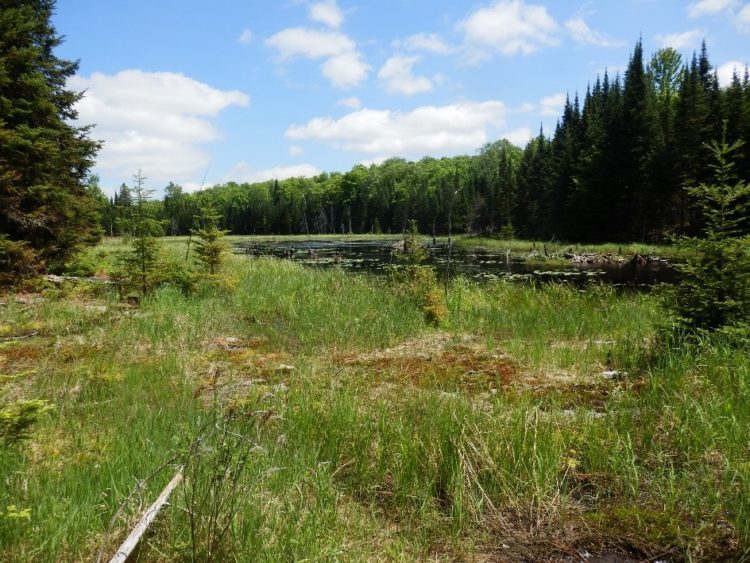 Dahl Forest
Haliburton Highlands Land Trust's Dahl Forest is approximately 500 acres and straddles 2.7 km of the Burnt River in Haliburton County 5 km south of Gelert. The ecological significance of the Dahl Forest is evident in the diversity of species and habitats found on the property.
 Difficulty: Easy to moderate
 Features: Nature and conservation planning
 Access: 1307 Geeza Rd, off of Gelert Rd/County Rd 1 just 5 km south of Gelert.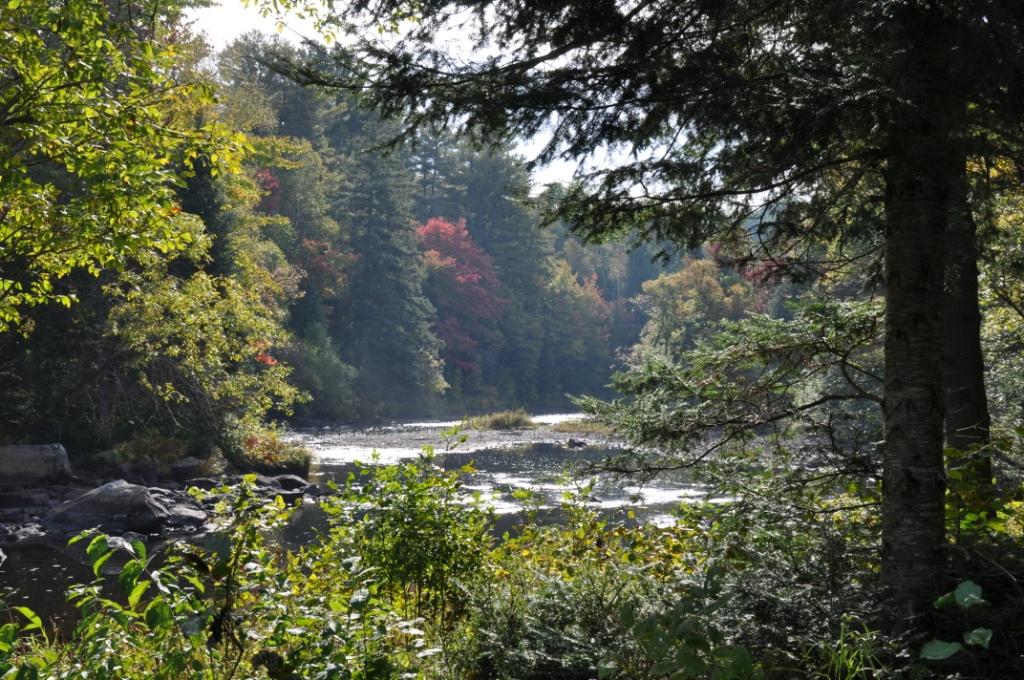 Harrington Park & Minden Wild Water Preserve
Located on Horseshoe Lake Road, this Park allows visitors to view the spectacular beauty of the Minden Wild Water Preserve and rapids. This park features a footpath along the rapids which offer great vantage points to watch the many kayaking activities that take place here.
Length: Approximately 0.5km
Difficulty: Easy to moderate
Features: Spectacular view of the rapids
Access: South of Horseshoe Lake Road / Bethel Road intersection
Dorset Scenic Tower Trail
This is a must-see for anyone wanting to truly experience the Highlands. This trail can also be hiked from the top of the 'Dorset Mountain' down to the museum. If you want to start at the top (option available May to October), a fee to drive up to the access point/picnic area is applicable. During the open season there's also a gift shop/visitor information centre, washrooms and numerous photo opportunities at the top of Dorset Mountain.
 Length: 1.5 km loop                                                                 Difficulty: Challenging
 Features: Dorset Lookout Tower
 Access: From the bottom: 1038 Main Street, Dorset. From the top: 1154 Dorset Scenic Tower Road (off of Highway 35 North, just north of the Town of Dorset).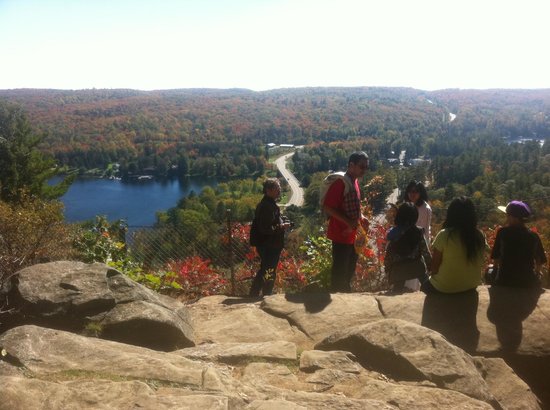 High Falls Hiking Trail
From the end of the trail you have a view of the top of the rapids upstream of High Falls and a view downstream towards the falls. High Falls is part of Algonquin Park and Permits are available at Pine Grove Point Lodge.
Length: 2 km
Difficulty: Easy Moderate
Access: Take Hwy. 118 east of Haliburton to Essonville Ln. (County Rd. 4) and then follow to Wilberforce. From Wilberforce, take County Rd. 648 through the village of Harcourt to Elephant Lake Rd. (County Rd. 10). Continue on Elephant Lake Rd. approximately 12km. You'll find both parking and the trailhead 2 km beyond the Kingscote Lake Access Point Road intersection.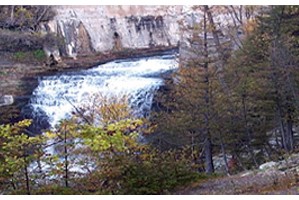 Minden Riverwalk
Located in downtown Minden, this unique pathway follows the Gull River and loops with a connecting foot bridge that brings you back downtown or allows you access to the Minden Boardwalk to continue on to the Minden Cultural Centre or the Ball Diamonds. You choose how long or short of a journey, the possibilities are endless.
Length: Approximately 1km
Difficulty: Easy
Features: Accessible pathway and footbridge over the Gull River
Access: Along Water Street and Invergordon Avenue
Snowdon Park
This is the largest park within our township, consisting of 460 acres of beautiful mixed woodland. This park is a must see destination point for outdoor enthusiasts for hiking, snowshoeing, cross country skiing, bird watching and many other outdoor activities.
Length: Approximately 3km with several other shorter trails throughout
Difficulty: Easy to moderate
Features: Year round access and wheelchair accessible sections
Access: Entrance is just south of the South Lake/Gelert Roads intersection
Glebe Park & the Haliburton Sculpture Forest
On the north shore of Head Lake in the village of Haliburton, Glebe Park is 175 acres of woodlands and rolling hills with networks of trails for walking, mountain-biking, cross country-skiing and snowshoeing. It is also a great place to engage with art, culture and heritage. Glebe Park is home to the Haliburton Highlands Museum, Haliburton Sculpture Forest and Fleming College, Haliburton School of The Arts.
 Difficulty: Easy to moderate
 Features: Arts and Heritage
 Access: Glebe Park has two entrances: 297 College Drive, Haliburton and/or 66 Museum Road, Haliburton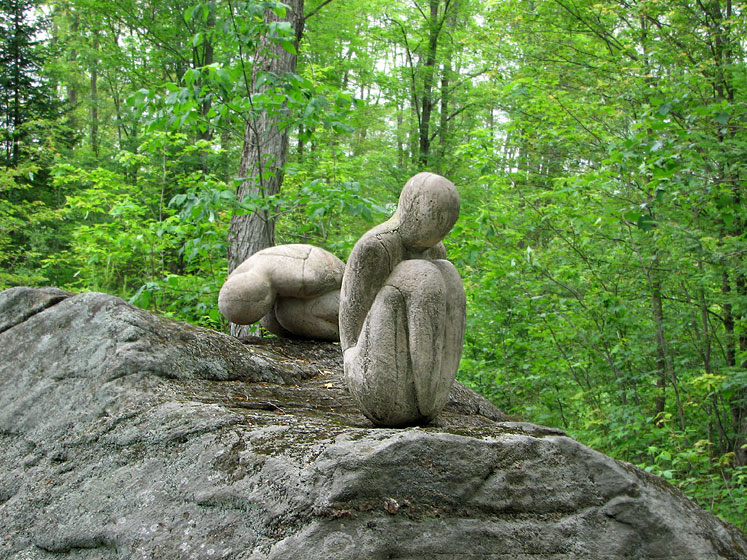 Silent Lake Provincial Park trails
 Silent Lake Provincial Park Loop Trail is a 13.8 kilometer moderately trafficked loop trail located near Highlands East, Ontario, Canada that features a lake and is rated as moderate. The trail is primarily used for hiking, walking, and nature trips and is best used from May until October. Dogs are also able to use this trail but must be kept on leash.
Length: Approximately 13.8 km
Difficulty: Easy to moderate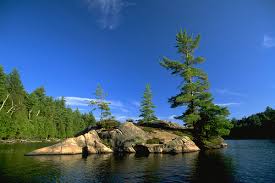 Sir Sam's Historical Interpretive Hiking Trail
Hike this scenic trail to the top of the hill to see remnants of what was once apple orchards and wheat fields while learning of the history of Sir Sam Hughes, Glenn Eagle Estate and the history and development of the ski hill. Cost is $5.00 per hiker at honour box & for more information
Length: 4+ km
Difficulty: Moderate
Features: Panaramic view over Eagle and Moose lakes
Access: 1054 Liswood Rd. Ealge Lake; access off parking lot at main chalet only