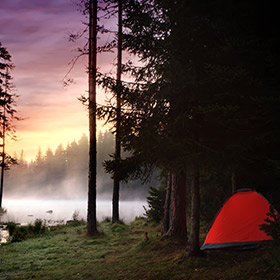 You waken slowly in the early morning, the high-pitched warble of birdsong drifting lightly through the trees overhead. The sky is faintly brightening with the coming of dawn, and the natural world is gradually blossoming to life.
Around you there is no trace of human activity, no murmurs of voices, clanging of dishes, or whir of technology. All you hear is a deep stillness that comes from inside.
It's just you, your tent, and your quest for adventure. You are backcountry.
Backcountry camping is a wilderness adventure where you push yourself to the limit, challenging yourself to go without the conveniences of modern life for a small slice of time, to remind yourself of how small you are and how beautiful the world can be.
Getting Started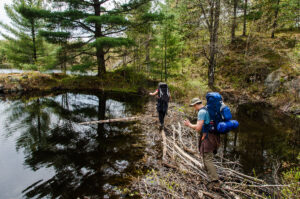 If you haven't been backcountry camping in the past there's no time like the present and nowhere better to get started than here in Ontario's Highlands. When first taking the leap to backcountry camping don't jump in with both feet and plan for an epic 30-kilometre canoe trip with five portages – start small and build from there.
Make sure you have the right gear, and pack carefully. There's nothing worse than hiking five kilometres only to realize you forgot a lighter. Most interior or backcountry campsites are outfitted with a picnic table, tent site, and pit privy, and you must pack in everything else you will need for your adventure.
Where to Camp
Whether you hike, cycle or paddle to these Haliburton Highlands campsites your experience is guaranteed to be incredible.

Access Points: 29 access points located around the periphery of the Park and along Highway 60. These locations are starting points allowing visitors to access the Park's backcountry, and in most cases do not have developed campgrounds or extensive facilities.
Booking: Because of the popularity of Algonquin, the Park's backcountry, it is often full on long weekends during July and August. In order to remove any uncertainty about being able to camp at the time and place you are counting on, we recommend that a reservation be made in advance of your trip.
Explore Algonquin at its best; a vast landscape of maple hills, rocky ridges, spruce bogs, and thousands of lakes, ponds, and streams. By paddle and portage – more than 2,000 kilometres of canoe routes and over 1,900 campsites await those who seek the rugged beauty of Algonquin Provincial Park. Additionally, Algonquin has three backpacking trails which also probe the heart of the backcountry.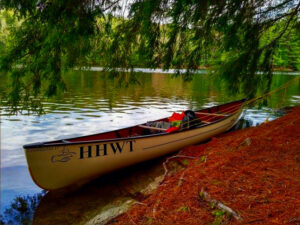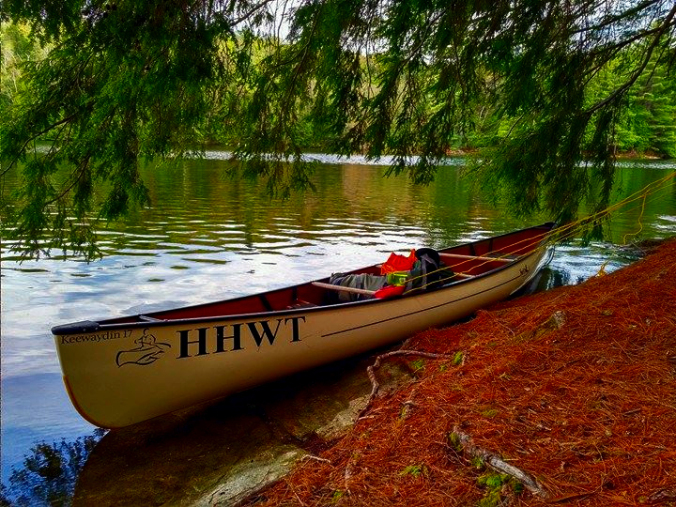 Access Points: 11 public access points, many off Highway 35 North in Haliburton Highlands.
Booking: Reservations can be made through the website. Questions can be directed to 1-866-364-4498.
This is the perfect spot to dip your toe into the proverbial backcountry waters. The Haliburton Highlands Water Trails sprawl across more than 28,000 hectares of rugged mixed forests and pristine lakes. Choose between two areas for your camping getaway – Frost Centre and Poker Lakes. Frost Centre Area has both boat-in sites and road access campsites along Sherborne Lake Access Road, and is ideal for two-to-three-day trips. Poker Lakes Area is backcountry only, and good for novice paddlers or families.

Access Points: Backcountry campers can park in designated parking areas.
Booking: Camping and fires are permitted on designated sites only. Camping is first come first serve and Non-reservable.
This park provides unique opportunity for a sustainable, semi wilderness recreation experience. Rugged canoe routes involving lakes, wetlands, and portages, and home to over 100 km of the Ganaraska Hiking Trail (The Wilderness Section www.ganaraska-hiking-trail.org) and a limited number of backcountry campsites.
Bonus: Haliburton Forest Wildlife Reserve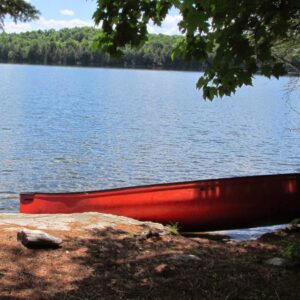 Access Points: The canoe-in campsite can be accessed from the MacDonald Lake public water access, less than one-kilometre from base camp.
Booking: You can book a campsite through the Haliburton Forest website.
Worth a mention even though there's only one backcountry site here! Haliburton Forest has a single canoe-in campsite for backcountry camping which is perfect for beginners because it's only a short paddle in to the site, has good cell reception, and is close to amenities. More tradition camping sites & cabins are available as well.
Bonus: Silent Lake Provincial Park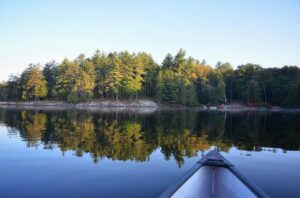 Access Points: Silent Lake offers a semi-wilderness experience with walk-in campsites in the Pincer Bay Campground as well as Granite Ridge Campground. For all walk-in sites, campers park their vehicles in the designated walk-in parking lots and walk their gear a short distance in to the campsite.  The walk to your site will be no longer than 500 m.
Booking: We recommend that a reservation be made in advance of your trip.
Silent Lake occupies an area of 1,450 hectares (3,600 acres) & is located in the Canadian Shield. Recreational activities include swimming, hiking, cycling, kayaking, and canoeing. Canoe and kayak rentals are available within this park. Yurt camping is available within this park.[1]
Like this story? Learn more about Haliburton Highlands backcountry adventures: