It has been in the news that too many beaches in Ontario are overcrowded, especially in light of the pandemic. Enforcement of social distancing and public health measures to prevent the spread of COVID-19 are challenging at public beaches in major city centres, and it can make for a less-than-enjoyable visit with family and friends.
In the Haliburton Highlands, we have space, safety and many places where you can maintain health & safety regulations but still have a great day. There are countless private beaches for you to cool off, play and leave your stress behind.
BEACH RESORTS are the answer for anyone looking to find 'hidden beaches'. Often secluded and with friendly staff, you'll experience the that personal touch that the accommodations in the Haliburton Highlands are known for.
If laying around on the beach is not your thing, remember that reading isn't the only thing you can do at the beach. Many resorts offer use of canoes, kayaks, stand up paddleboards and other fun sport or activity toys. Lots of resorts also have beach volleyball and other games easy to play in the sand. Resort beaches are often secluded, very private and are extremely well maintained.
Top Resorts With A Beach
Here is a short list of awesome resorts in the Haliburton Highlands with a beach: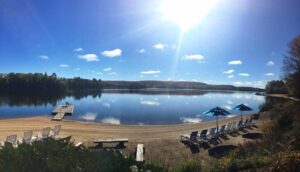 Blue Spruce Cottage Resort – Oxtongue Lake
Warm weather brings endless adventure. Take to the lake and paddle a canoe or kayak to Ragged Falls – a wonderful half-day adventure. Help yourself to the pedal boats and Stand Up Paddle (SUP) Boards. Take a tour of Oxtongue Lake in one of our fishing boats, go swimming, kayaking or canoeing, or captain our pontoon boat. Swim, play and have fun on our numerous water toys. Try water skiing or tubing for a blast! Sail our Hobie Cat, or fish to your hearts content.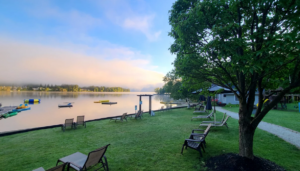 Bonnie View Inn – Lake Kashgawigamog
A landmark resort in the Haliburton Highlands since 1924, the Bonnie View Inn is a 28-room, family owned and operated country inn with big resort amenities. Situated along 500 feet of southern exposure on Lake Kashagawig-amog. If you are looking for amazing food, great service, well appointed rooms– all at an affordable price – the Bonnie View Inn is the place for you!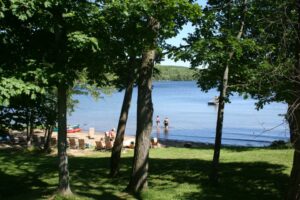 Buttermilk Falls Resort – Boshkung Lake
The best thing about a Buttermilk Falls vacation is kicking back on our beach or on the deck of your own private lakeside cottage and soaking up the atmosphere of our very special Ontario resort on Boshkung Lake. We are located directly beside the renowned Buttermilk Falls, a very scenic waterfall in the forest where you can watch the loons and herons fishing. Kids love to fish with nets for minnows in the shallow water by the beach below the falls, and make sand castles on our shallow sandy beach area.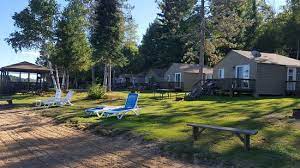 Cloverleaf Cottages – Oxtongue Lake
Quiet family oriented Cottage Resort. Situated on a beautiful 450 ft sandy beach. Water toys and children's playground.  We offer free use of canoes, kayaks, and pedal boats, (fishing boat rentals are available).  Fish right off the dock. Come and join in on some summer fun and relaxation. Breathtaking scenery for a fall getaway!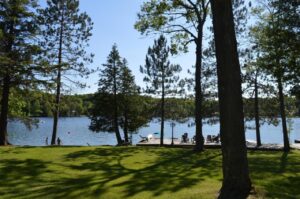 Heather Lodge – Twelve Mile Lake
Quaint four season resort which offers romantic getaways for couples wishing to enjoy the natural beauty of the area, and getting away from the daily grind.  Slow it all down with some lakeside solitude on our 300 feet of spectacular waterfront on Twelve Mile Lake, part of a three lake chain.  Waterfront activities include canoes, kayaks, stand up paddle boards, and a paddle boat as well as a safe swimming area.
Oakview Lodge – Little Hawk Lake
Little Hawk provides weedless swimming in a crystal clear lake, a variety of water sports, great fishing, golf, sunbathing, sightseeing, and campfires on the beach. The possibilities are endless!
Miners' Bay Lodge – Gull Lake & Round Lake
A seasonal lodge and resort and a special place to many. To the hundreds of guest families that call MBL their "second home," MBL is more than a venerable summer resort; it upholds values of tradition and provides a family-friendly holiday experience that have kept guests coming back for many years.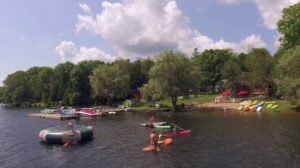 Ogopogo Resort – Mountain Lake
Mountain Lake is a designated Trout lake. It is pristine! You can look over the side of the boat and see down 20 feet or more. The resort has direct water access to the Minden Wild Water Preserve, world renowned as Canada`s premier location for kayak racing events. Ogopogo shores are gently sloping and sandy while the view across the lake is mountainous and forest. Mountain Lake affords excellent fishing both summer and winter. Mountain Lake is not heavily developed because of its rugged east shore and is considered by locals to be the "prime" lake and one of the most picturesque in the Haliburton region.
Red Umbrella Inn – Twelve Mile Lake
Located on a 3 acre property on the west shore of Twelve Mile Lake. We feature a kid friendly sand beach with shallow swimming in a sheltered bay (no lifeguards). There are complimentary canoes & paddle boats available for our guests.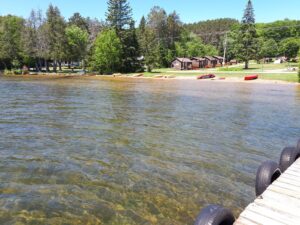 Sandy Lane Resort – Halls Lake
Located on the beautiful sandy shores of crystal clear Halls Lake. Relax on our large sandy beach, or enjoy one of our many activities!  The sparkle of the lakes, the green of the forest, both set amongst the granite rock outcropping of the rugged rolling Haliburton Highlands. Long hot sunny days with warm waters bring us out to do all the activities that the Highlands have to offer. Relax on the beach, partake in a friendly horseshoe pitching contest, or water skiing around the lake, all part of summer. Always lots to do at Sandy Lane or nearby.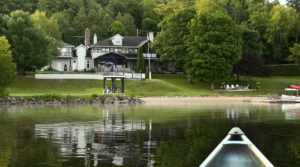 Sir Sam's Inn & Spa – Eagle Lake
"Of course we're biased, but we believe our Haliburton Inn & Spa on Eagle Lake is one of the most beautiful locations in Ontario". Whether you enjoy boating, fishing or just relaxing by the shoreline, Sir Sam's Inn & Spa offers you many different ways to enjoy Eagle Lake and the surrounding watershed.
White Birches Resort – Oxtongue Lake
This family-run cottage resort is situated just minutes from Ontario's crown jewel, Algonquin Park. Situated on the shore of Oxtongue Lake our cottages are located in manicured grounds, with no roads to cross or hills to climb to get to the beach.
Visit our accommodations page for a full listing of all our local options for places to stay and enjoy the water. Have a wonderful time on the beach!
You may also be interested in visiting one of our many Public Swimming Areas & Beaches.