Pick your adventure at High Falls
By Rick Whitteker – Nature writer & outdoor guide
I like taking the road less travelled. During my international travel days, I enjoyed the adventure of avoiding the bolded attractions in the Let's Go or Lonely Planet guides, finding more remote destinations. I had the same feeling entering the area of Algonquin Park South Gate, the least visited access to Algonquin Park. With tumbling hills, winding turns, and big lake views, driving through the quieter parts of the Haliburton Highlands to get to the south gate was just part of the day's adventure!
The eastern section of the Haliburton Highlands has character. To get a taste of this, consider stopping at Agnew's General Store in Wilberforce. Established in 1921, this store offers a little of everything, even supplies for geocachers and rockhounds! For another interesting stop, the South Algonquin County Store in Harcourt is a one stop shop. Ask for Johnhee, this friendly guy will fix you up a wonderfully rich java from his impressive coffee bar.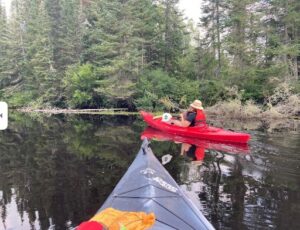 I decided to join a tour called, "High Falls Paddle, Explore and Dine."  This five-hour tour is offered by Deep Roots Adventures. At their south Algonquin outpost, I was met by owner Corina Mansfield. Corina introduced me to Paul, who she refers to as a guide "sent by the gods to help me this year!" I understand her positive sentiment as finding good nature guides is difficult, especially mature, well grounded, and knowledgeable guides like Paul.
Joined by another couple, we were given a short safety briefing before we took a short walk down to the water. Picking our watercraft of choice when registering, our small group chose kayaks over canoes or paddleboards. These open cockpit kayaks are easy to enter, stable and comfortable to paddle.
The bay we launched from was perfect, it was sheltered and secluded. If you like the colour purple, you will love this bay full of watery beds of Pickerel Weed. This plant's purple flower attracts many pollinators, especially bumblebees. Circling these impressive beds, we paddled over to the narrow mouth of the York River a short distance from the launch. Passing under a bridge and an abandoned rail line, the river gently meanders upriver to surroundings that become very serene.
Nothing like the quiet tranquility of a river paddle…
The paddle up the York River is very relaxing. The width of the river is ideal; wide enough not to feel constricting but narrow enough to be intimate. The river habitat slowly changes starting with emergent aquatic plants and Speckled Alder, changing to steep sandy banks, eventually the river is bracketed by mature forests including Black Spruce.
On route we saw three Blanding Turtles, each about the size of a side plate, basking on the sunny logs. The Blanding's Turtle is easily identified by its bright yellow throat and a domed shell that resembles an army helmet. Consider a species at risk and categorized as threatened, Blanding Turtles are slow breeders, not laying eggs until they are 14-20 years old. Adult mortality is very detrimental to their population as the odds of even reaching breeding age is low.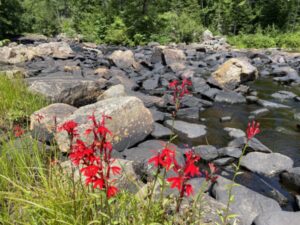 Paddling along, a Great Blue Heron was flushed out of its feeding spot. A few unique-looking troughs in the steep sandy banks along the river were made by beavers doing a belly slide back down to the water; the quickest way home after the hard work of food foraging on the upper banks of the York. After about an hour, the river turns into a rock garden adorned by the stunning stalks of crimson Cardinal flowers. It was time to stretch our legs and hike to the falls.
The trail from the paddle takeout to the falls is not for flimsy footwear like flip flops… unless that is what you want to do on the rocks and tree roots that cross the trail to the top of the falls. Paul pointed out riverside boulders strewn about, examples of the powerful forces of nature, particularly water and ice, leaving these massive boulders cracked and tilting at all angles. Mosses and stunted ferns carpeted rocks like rooftop gardens. Old Eastern Cedar and Yellow Birch roots hugged the sides of boulders seeking out meager nutrients from their elevated perches.
High Falls is impressive. This is a pick-your-own-level-of-adventure-type waterfall. There are calm pools to wade into above and below the falls. There are several spots where muscle massaging rapids tumble over rock ledges. There are waterslides along the slippery, smooth rocks on the edges of the main falls and there are several flat sections just to sit and read if the travel to the falls is adventurous enough!
Waterfalls and delicious eats…
Deep Roots Adventures supplies an impressive lunch. Provided by their food catering partner, AM PM Outdoor Gourmet Snack Shack, Amanda at AM PM has built up her food business over years, starting in her youth packing meals for her family's fishing trips. A recent move to the busy nook at Harmony Resort on Benoir Lake has her serving campers, cottagers, and many other outdoor groups. The small restaurant at the resort is just part of her business. If you are looking for some delicious eats to take out or a caterer of quality for your next group function, Amanda is a great choice!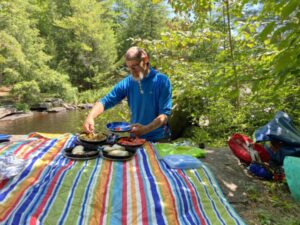 Our riverside lunch is a colourful spread included delicious turkey warps, a chickpea/cucumber salad, homemade maple-pecan-carrot cake and a zippy mint, watermelon, and blueberry salad. With the rumble of the falls beside us and a glistening pool in front of us, nature provided a wonderful ambiance to this delicious lunch.
After ample time to swim, explore and digest, we return to our kayaks beached on the trailside, making out way back to the outpost.
You can hike or paddle to Hike Falls, but for me, I like the river route as it is tranquil and relaxing. The mix of paddling and hiking is invigorating and the destination, although popular, feels more remote when arriving by water. The surrounding landscape is pristine and wild, leaving me feeling deeply satisfied after visiting this off the beaten track part of Haliburton County.