Stargazing
Luckily there are still places where the view of the sky is comparable to that over 100 years ago; unspoiled places to wander by the light of the moon, gaze at the sky above, and be in awe at the immense size of the galaxy around us.
The Haliburton Highlands offers some of the most stunning views of the night sky. You can gaze at the stars stretching across the horizon, without any bothersome light pollution or white noise.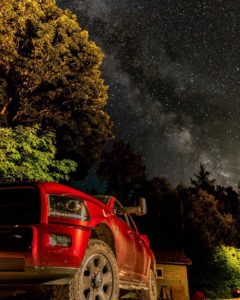 With your telescope, binoculars and/or just using your eyes you can discover the constellations and far-flung galaxies (check out the Guide to Spring Stargazing here).
Spring is also one of the best times of year to view the Aurora Borealis. Yes, you can see the Northern Lights frequently from here on cooler spring and fall evenings. While there are no guarantees of sightings, this is a dazzling phenomenon and one of the world's greatest natural wonders.
Below is a link to another story about Stargazing that might interest you.
thanks Natalie & Phil  #weekendwanderer @justinfgreaves @adaptive_kromatics @haliburton_forest     @onhighlands