With over a thousand lakes and rivers, and endless coastline to explore, it is fitting that the Haliburton Highlands is a premier destination for water activities as the weather warms during the summer months. Getting out and enjoying spectacular views and keeping active have never been easier with paddling in one of the world's greatest fresh water destinations.
STAND-UP PADDLING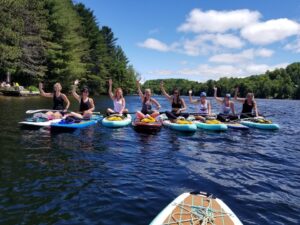 Stand-up paddleboarding is one of the fastest growing sports in North America, which has seen its popularity skyrocket in Canada in the last decade or so. People cite a number of reasons for embracing the sport, everything from the exercise benefits to the opportunity to view spectacular scenery with a whole new perspective to the feeling of walking on water. For most aficionados, it's probably a combination of these appeals that leads people to grab a paddle, hop aboard a gently-bobbing board, and head out onto lakes and rivers.
Stand-up paddleboarding requires users to balance on a surf-style board and paddle across the water, and has been described as surfing meets canoeing. Perhaps unsurprisingly, the sport is an offshoot of the surfer lifestyle.
It's a passion that's spreading globally. And with good reason: great for exercise, approachable, offering a tranquil and relaxing new way to view the lakes that are the allure of cottage country.
What's SUP?
The Haliburton Highlands is a stand-up paddleboarder's dream, with numerous lakes and rivers to explore and a number of reputable, knowledgeable companies that will help you enjoy them.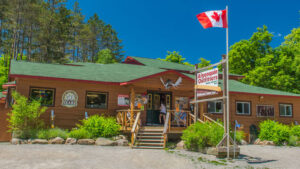 Algonquin Outfitters: algonquinoutfitters.com; 1.800.469.4948
Suggested paddling route: Rent a SUP from Algonquin Outfitters Oxtongue Lake and take the Ragged Falls day trip, a popular route to one of most the majestic waterfalls in the region. Bring a picnic lunch and enjoy the beautiful site from shore.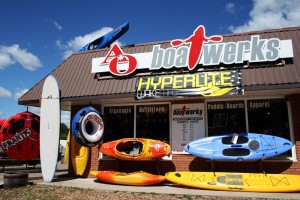 AO Boatwerks:  boatwerks.com 1.866.529.2570
A rental and demo fleet is also on hand for the world class whitewater at the nearby Gull River.  AO Boatwerks also carries a full lineup of flatwater canoes and kayaks, wakeboards, waterskis, water toys and surfwear. Everything you need for a day on the river, the lake, or at the cottage can be found at AO Boatwerks.  Locations in Minden & Haliburton.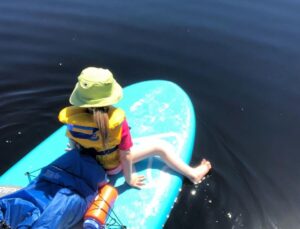 Deep Roots Adventures: deeprootsadventure.com  705.854.0628
Nothing like a paddle board to explore rivers and Inlets and sand bars with your kiddos!! Today was perfect for it. Book your paddle board and get exploring!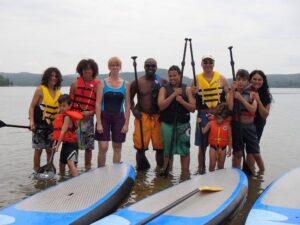 SUPnorth Paddle Board Adventures: supnorth.ca; 705.754.0716
SUPnorth was conceived in 2011 by our passion for outdoor adventures and love of surfing. Our mission is to share the joy of gliding over silky waters, and the lakes here in cottage country are perfect for paddling. They offer a zen like atmosphere to an activity with amazing physical benefits.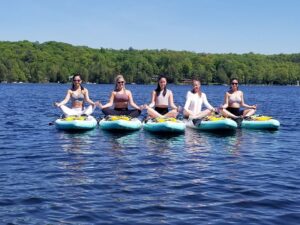 Wolf Flow – SUP Yoga & Fitness:  wolfflowsup.com  403.836.3505
Paddleboard (SUP) Yoga is here in the Haliburton Highlands. Classes for all levels will be available, including kids! Bring your yoga practice to the water. There are also Paddle Fishing NEW this year
Your Outdoors:  yoursoutdoors.ca  705.754.3436
Yours Outdoors offers unique learning vacations and outdoor adventures that explore the rich natural and cultural heritage of the Haliburton Highlands. Yours Outdoors packages are original, engaging, enlightening, and will connect you with communities and the great outdoors.  We seek to add extra value to your package by paying attention to the details, adding extra special touches, and providing one-of-a-kind experiences.
Finally, there are many great accommodations in the Haliburton Highlands where you can enjoy this watersport activity and more, click here to see a listing of possible places where you can come, stay, relax and make memories that will last a lifetime.