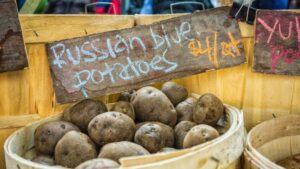 Chip truck time – the time of year when we crave the warm, brown-paper-wrapped-cardboard-boxes filled to the brim with steaming potato-ey goodness and the time of year when the aroma of French fries can lead to an unplanned emergency detour to a roadside stand.
Equally salty, sweet, crisp and chewy, the search for the perfect French fry is on.
Make sure no potato gets left behind using this list of local chip trucks. Find one in your neighbourhood and the search is on for the perfect French fry.
Please check each business for their operating hours and when they will be starting their year as most of them are seasonal.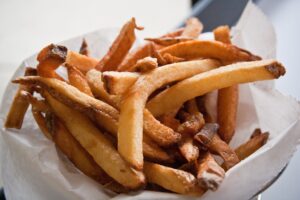 Dan's Delicious Delights
1168 Stanhope Airport Rd., Haliburton
A fry stand like one from the good old days, this chip stand is no muss, no fuss fry bliss.
Fresh cut french fries are the name of the game at Dan's Delicious Delights, located at the Stanhope Airport in Algonquin Highlands. Fried to a deep golden brown, why not top them off with some salt, ketchup, or Dan's favourite, malt vinegar? Add gravy and real cheese curds to make a stellar poutine, or better yet, why not have a whole Fish and Chip combo? You won't regret it.  Dan's Delicious Delights
Kate's Burger Counter
1184 Kashagawigamog Lake Road, Ingoldsby
705-286-4554
We are a Fast food counter service restaurant, focusing on hand made food.  Our Burgers are in house ground and never frozen, fresh cut fries and onion rings.  www.facebook.com/katesburgercounter
Lola's Meal Stop & Snack Shop
15436 HWY 35, Carnarvon
705-448-2387
Fresh hot pizza, home cut fries, poutine, ice cream and more.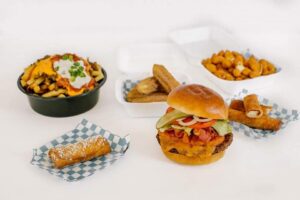 Mega Munch
237 Highland St., Haliburton
705.306.3663
The Haliburton food truck experience. Outdoor seating, and a stone pathway down to the river behind the truck will be a great place for picnics.
Crispy fries, and the only breakfast poutine you are likely to find!   https://www.megamunch.ca/
The Moose n Paddle
1092 Main St, Dorset
705-783-4416
We have a five-star chef who does more than just your standard burger and fries, we've got steak frites, chicken and rice and yes, you can 100 per cent get a burger if that's what you're craving.
We have vegan options, a gluten-friendly fryer – we have something for everyone… Learn more
The Minden River Cone
119 Bobcaygeon Road, Minden
705-286-3752
The iconic Minden River Cone is the perfect spot to cool down with an ice cream cone or grab a quick bite to eat with their fresh cut fries. This food stop is not hard to find. Just look for the giant ice cream cone. www.facebook.com/themindenrivercone
Smoke on the Water
Located at Kennisis Lake Marina & Storage… Learn More
Gangster Cheese
Located at Boshkung Social, Minden… Learn More