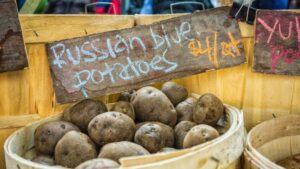 It's chip truck time – the time of year when we crave the warm, brown-paper-wrapped-cardboard-boxes filled to the brim with steaming potato-ey goodness. The time of year when the aroma of French fries can lead to an unplanned emergency detour to a roadside stand.
This year, we also have an excuse to indulge guilt-free – the Great Potato Abundance of 2020 means all hands (er, potatoes?) are on deck to help put a dent in the potato population.
It's a tough job, but somebody's got to do it.
And think of what's waiting for you if you accept this mission: You line up to place your order, your mouth watering in anticipation. A quick drive home, trying to resist the urge to nibble straight from the bag. When you reach in and pull out a warm, crisp fry, lathered in ketchup and dusted with a liberal helping of salt, it's nothing short of fry bliss.
Equally salty, sweet, crisp and chewy, the search for the perfect French fry is on.
Make sure no potato gets left behind using this list of local chip trucks. Find one in your neighbourhood and the search is on for the perfect French fry.
Baked & Batered
128 Highland St., Haliburton
705.457.2252
How about a side of fish with your fries?  Lakeside fries right in the village of Haliburton. Fresh cut fries, sweet potato fries and poutine right across the road from Head Lake Park. . bakedandbattered.com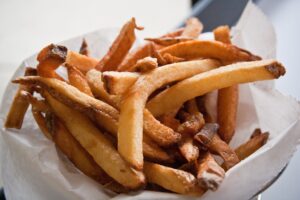 Dan's Delicious Delights
1168 Stanhope Airport Rd., Haliburton
A fry stand like one from the good old days, this chip stand is no muss, no fuss fry bliss.
Fresh cut french fries are the name of the game at Dan's Delicious Delights, located at the Stanhope Airport in Algonquin Highlands. Fried to a deep golden brown, why not top them off with some salt, ketchup, or Dan's favourite, malt vinegar? Add gravy and real cheese curds to make a stellar poutine, or better yet, why not have a whole Fish and Chip combo? You won't regret it.  Dan's Delicious Delights
Haliburton Forest Cookhouse
1095 Redkenn Rd., Haliburton
800.631.2198
Crispy fries and poutine with smoked brisket! Find them at the entrance to Haliburton Forest Wild Life Reserve. www.facebook.com/haliburtoncookhouse
Mega Munch
13533 HWY 118., Haliburton
705.306.3663
The Haliburton food truck experience. Crispy fries, and the only breakfast poutine you are likely to find! www.facebook.com/4MegaMunch
Molly's Bistro Bakery
170 Bobcaygeon Rd., Minden
705.286.6988
Molly's Bistro Bakery "home" fries are a triple threat: boil, roasted & grilled fried. Served with our amazing breakfast like this Bistro Breakfast Poutine or as a side with a sandwich (on our homemade bread), chicken pie or burger. MollysBistroBakery.ca
Northern Sizzler BBQ
1010 S Lake Rd., Minden
restaurantguru.com/Northern-Sizzler-BBQ
A true food truck with classic fries, pulled-pork poutine and other treats to round out your stop. Right off Hwy 35: get 'em on the way to the cottage, and on the way home!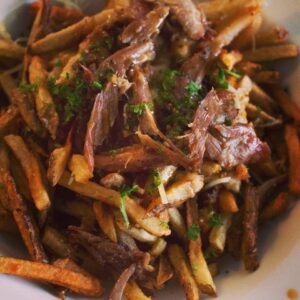 Rhubarb
9201 HWY 118, Minden
705.489.4449
Rhubarb makes the most delicious fries and duck poutine!
We start with fresh russet potatoes (never frozen) have cut every day and fried with only high quality oil.   We light salt our fries and they are truly out of this world amazing!  rhubarbhali.com