26sep8:00 am11:00 amFall Migration Birding WalksExperience - Hosted by the Land Between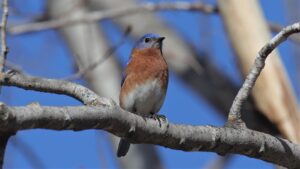 Event Details

During this year's fall migration, you are invited to learn about the birds of the Land Between! Join us on Saturday September 26 at 8am at the Haliburton County Rail Trail (meeting at the end of Cowan Road/ Gould's Crossing). This is a chance to get out in the field with experienced birders, and practice your identification skills. The session will be led by the Land Between staffer Xavier Tuson. While no prior birding experience is necessary, we encourage you to watch an "Intro to Birding" webinar beforehand to familiarize yourself with the basics – this will be featured on our website soon.

This event is open to all ages, but participants should be able to comfortably walk for about an hour. If you have mobility challenges, please contact us to let us know, and we would be happy to accommodate as needed.

We will be limiting the number of participants to ensure appropriate spacing in accordance with COVID-19 safety guidelines. Please register here: https://www.thelandbetween.ca/event/guided-birding-walk-2/ or by calling our office at (705) 457 1222.

The Fall Migration walks will take place in three locations across the Land Between, but just one within Haliburton County. See our schedule below.

Saturday September 26, 8am. Location: Haliburton Rail Trail (Haliburton, ON)

Wear comfortable shoes, and bring binoculars if you have them! 
Time

(Saturday) 8:00 am - 11:00 am